A weekend that will combine food and wine culture, art, ecology, and solidarity. From October 13 to 15, Hostaria returns for a three-day events accompanied by tastings and traditional dishes.
It will be a journey throughout Italy among enological treasures and a unique toponymy that will take place in the historic center streets and squares centered between Piazza Bra, Piazza dei Signori, Piazza Indipendenza, Cortile del Tribunale, and Cortile Mercato Vecchio. During the three days, participants will see over 350 wine references with consortia and wineries from all across Italy, the latter accommodated in a unique guesthouse in the Piazza Indipendenza gardens.
A special emphasis will be placed on the local producers of Tuscany in Via Roma, which will become the street of the red Tuscany wines for a full weekend. The Veneto region, the country's leading wine-producing area, will be particularly highlighted. Six Veronese consortia will be present, each with its own space dedicated for the occasion, and wineries will provide tastings.
Don't miss the Slow Food Citadel and the Monte Veronese Village, just a few steps from Verona Arena, where the Consortium for the Protection of Monte Veronese DOP Cheese will offer guided tastings of cheese productions in various maturations and workshops where adults and children can make a small cheese under the guidance of an expert. All of these gatherings are free of charge.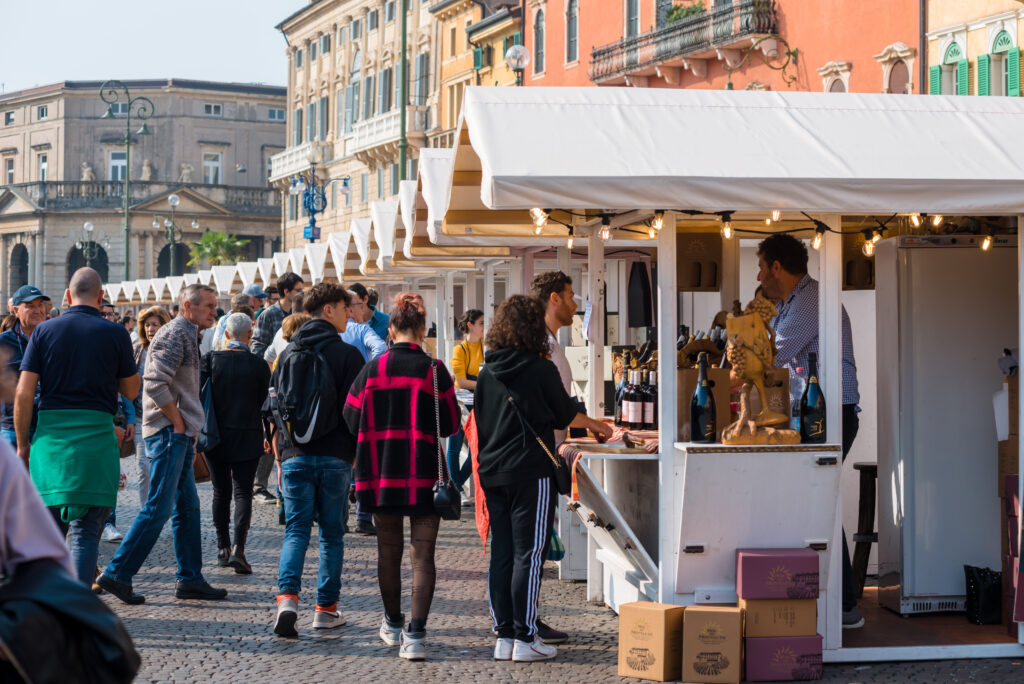 Along with the classic tokens, there will be some special ones that will entitle visitors to extra tastings: the Hostaria gin, the special break with coffee, the walking Tuscan gourmet dish, the tasting with the host, as well as focaccias with special flours and cod, wine tastings presented by the producers of Soave, the Lake Garda wine shop, and a journey through the aromas of the wines of the Custoza, Bardolino, and Garda consortia.
There will also be the traditional sbecolerie, or zero-kilometer tastings: tortellini of Valeggio, pearà, risotto, and arancini with bisi of Colognola, and there will be no shortage of gluten-free options. Small plates to go with the wine, an invitation to meet the downtown restaurateurs and their specialties.
And, as with every year, Hostaria puts a spotlight on responsible drinking. Thanks to a unique deal with Atv (the society responsible of public buses in Verona), a day pass to the urban lines will be available for just one euro more than the regular ticket price, allowing you to move around without driving.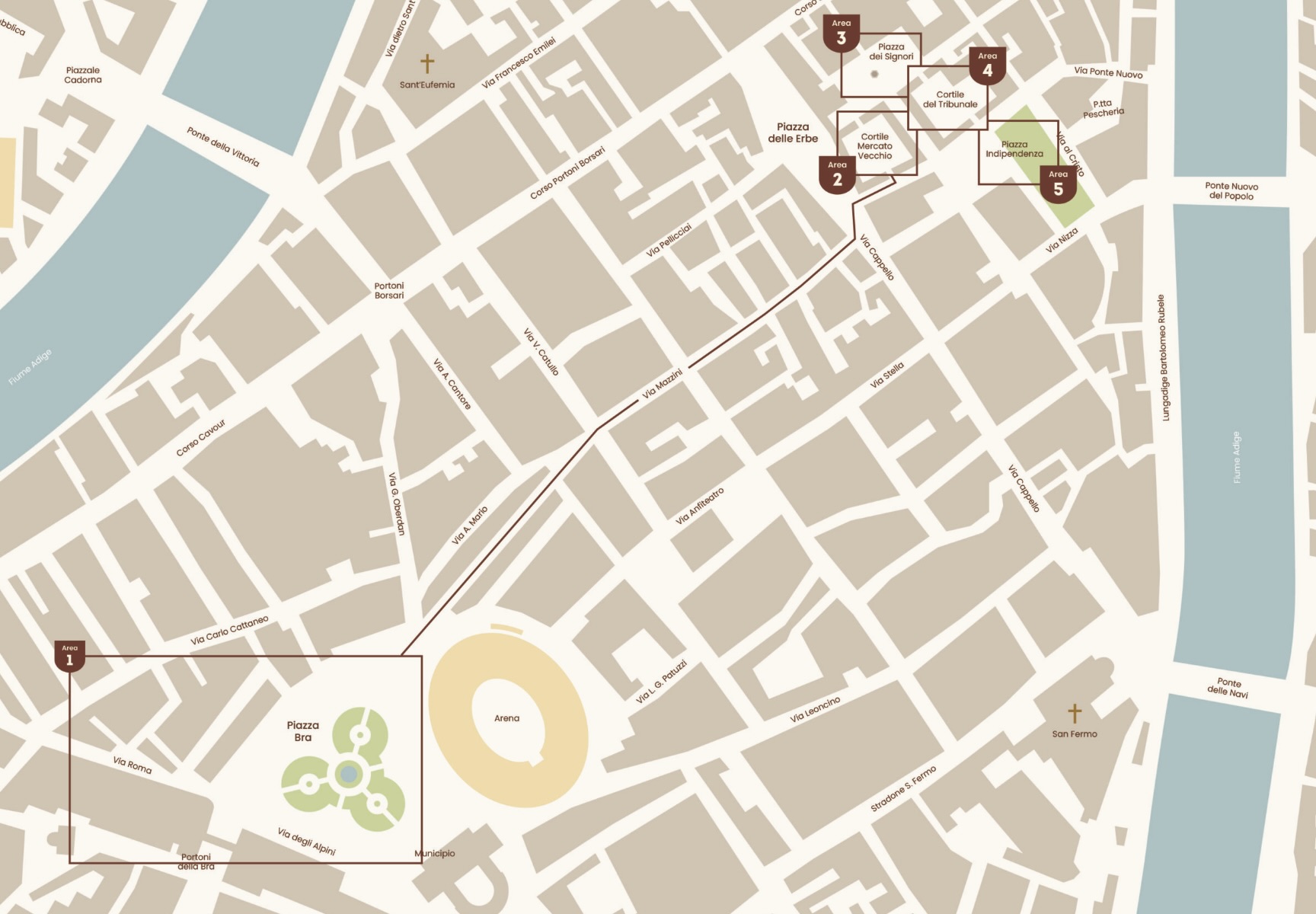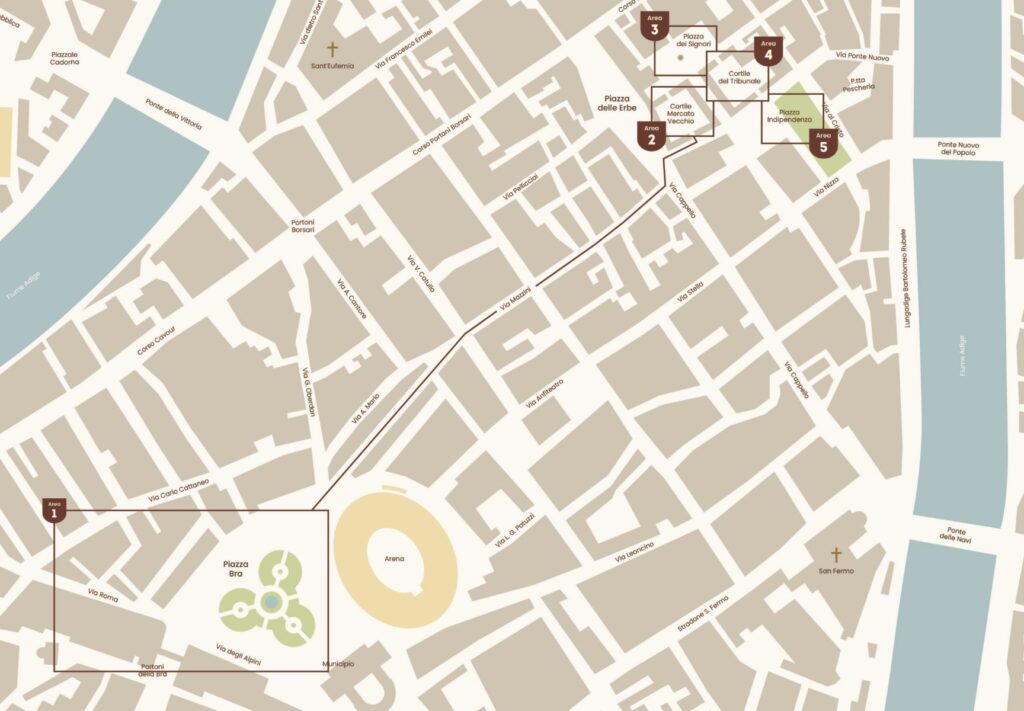 The topics of ecology and environmental sustainability will be central to the Hostaria 2023 edition. For the duration of these three nights, artist Elena Zecchin will paint a 12-square-meter work devoted to the Benaco Hills in real time inside the Enoteca del Lago di Garda's Mercato Vecchio courtyard, using dyes that absorb CO2 gases capable of purifying the air of pollutants.
The Grape Dance, an art project by Giacomo Ceschi, will be on display in the Tribunal's courtyard. Dozens of frozen grape bunches will be suspended in the air and, when they thaw, will drop countless small drops of water capable of creating a continually changing soundscape as they fall. Another must-do is to stop by Hostaria's Foresteria to learn about Nicola Biasi's Resistant Wines, which are made from vines with resistance and environmental friendliness traits that almost entirely eliminate the need for vineyard treatments. This represents the cutting edge of sustainable viticulture.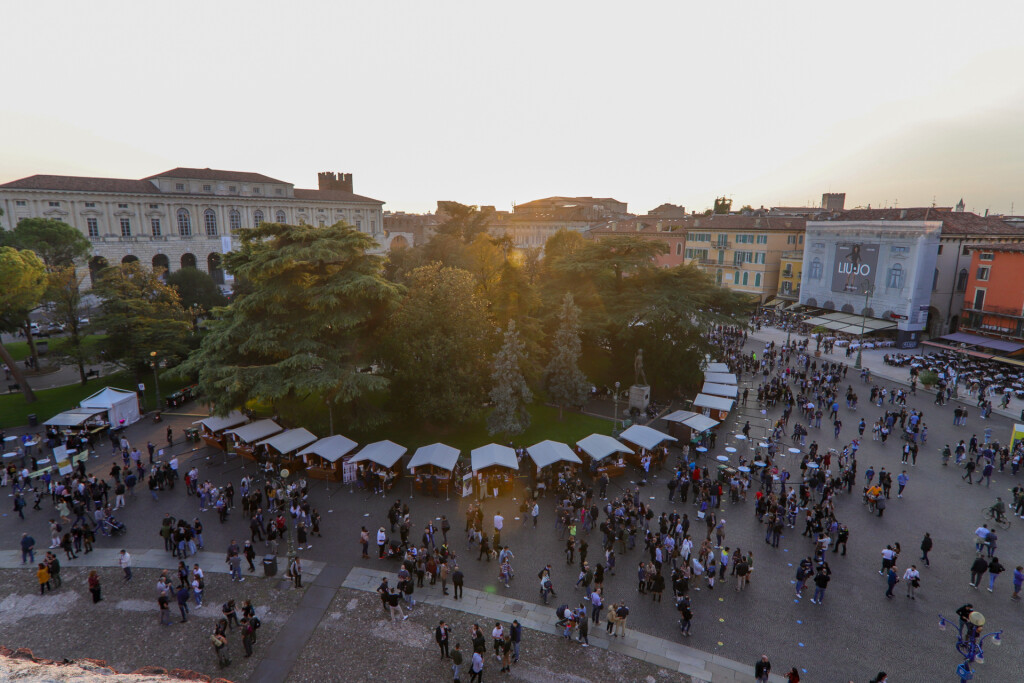 Hostaria's social project
Helping to promote awareness about neurodiversity through awareness and solidarity. On Sunday, October 17, the spotlight will be on Hostaria's social project in support of the nonprofit Continuando a Crescere, which has been responding to the social needs of children and young people with disabilities and neurodiversity, particularly those on the autism spectrum, since 2008. To support the project, pizza maker Renato Bosco will host a "Let's Knead" workshop at Monte Veronese Village at lunchtime, and in the afternoon, at 3 p.m., the theater group I Terconauti will perform "A Story of Normal Autism," a mix of cabaret, sketch comedy, and dialogues that will engage the audience.
Tickets
Pre-sales are now available at www.hostariaverona.com. The classic ticket comprende 8 sampling tokens, 2 delicacies, a goblet, and a pocket and it costs 18 euros, 19 if you include the day urban bus pass. Then there's the pair ticket for 23 euros (with the option of adding urban transit) with two sweet treats from Forno Bonomi. Purchasing ahead of time not only saves money, but also allows you to skip the line on event days.