by Bernardo Pasquali. Beer consumption is constantly increasing. The Italian microbrewery crisis, exacerbated by the 2020 epidemic, has resurfaced with vigor. Brewer tourism is becoming a business that might drive the future brew more than ever before. This complete guide from North to South, in addition to showing the immense excitement that flows through the supply chain, emphasizes a demand that unites an increasing number of consumers: a desire to visit the origins of the much-loved bubbles in person.
Data on the world of beer in Italy
The Annual Report 2022 of Assobirra demonstrates the sector's consistent expansion and the setting of new historical milestones. Consumption was close to 22.3 million hectolitres, with output over 18 million hectolitres. After the pandemic crisis, in 2022, the ride on the sector, which began around seven years earlier, restarted.
The new overall consumption record is undoubtedly accompanied by the per capita consumption record, which is typically very dear to our hearts. The bar has been raised even further, reaching the astounding quantity of 37.8 liters per person in 2022. The number of microbreweries and brewpubs in Italy (excluding beer corporations) reached 870 in 2022, the most since 2016.
Luca Grandi, curator of Turismo Birraio – Brewer's Tourism –.
Brewer tourism will be the most exciting challenge for the industry's future. "Never as today feels the need in the brewing world to open to the world of Beer Lovers, – says Luca Grandi, curator of the Verona Opera Turismo Birraio and creator of the Beer Nostra Magazine. Visits to Italian microbreweries are becoming increasingly popular. – No one has ever thought of developing beer tourism that is both touristic and incorporated into the area. This guide aims to pave the way for a new route that combines art, culture, local customs, and brewers".
Microbreweries as omens of the territory
"You can browse through the beauty of our country thanks to the hundreds of microbreweries that dot the territory from North to South – continues Luca Grandi – Reaching and visiting microbreweries can lead to the development of a true beer tourism, involving thousands of tourists, lovers or simple drinkers".
Turismo Birraio proposes sixty itineraries. A significant contribution to the field of travel literature. They also allow you to tour lesser-known Italy and were designed for fans, high-quality beer enthusiasts, and vocation and passion travelers.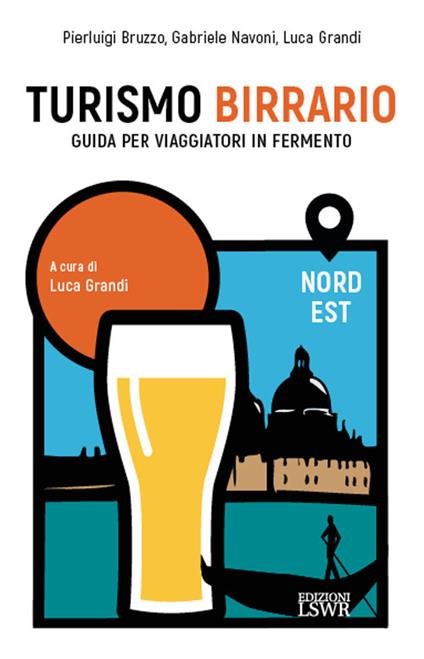 Composition of the Guide
Turismo Birraio, published by LSWR GROUP, consists of four volumes, one for each macro area of the Peninsula, and describes the tourist routes less beaten by telling the artistic, monumental and naturalistic territorial specificities.
In these paths are highlighted craft microbreweries that for quality and originality have been able to innovate a sector still new but already so important.
Craft microbreweries are recognized in these paths for their excellence and ingenuity in innovating a still-new but already-important sector.
TRENTINO ALTO ADIGE
– A tour of the castles from Val d'Adige to Val di Non
– From Lake Molveno to Lakes Levico and Caldonazzo through the Valle dei Laghi
– A tour through the forts, ruins and memories of the Great War in the Highlands Group, from Folgaria to Asiago
FRIULI-VENEZIA GIULIA
– Friuli and the swing of history
– Gorizia, discovering the border city
VENETO
– Tour in the Prosecco hills between Conegliano and Valdobbiadene
– The many waters of the Marca Trevigiana and the surroundings of the river Sile
– Villages, mountain huts and unspoilt landscapes between the Feltrine Peaks and the Pale di San Martino
– Between air, rock and water, discovering the Little Dolomites of Vicenza and the territory of Pasubio's valleys
– The treasures of the Brenta Riviera: Venetian Villas and other wonders from Stra to Malcontenta
– From the villages of the lower to the medieval secrets of the Euganean Hills
– The Berici Hills
– The Venetian shore of Lake Garda between villages, lake beaches and mountain landscapes
– The plain of Verona, between rice and history
– The Po Delta in Veneto
Turismo Birrario – Guida per viaggiatori in fermento
Editions Lswr, June 2023
Turismo Birraio, Nord-Est, 18.90 euro, isbn 9791254910788