(by Matilde Anghinoni) Three days until the start of construction works. Verona is preparing for the beginning of an ambitious project to unify existing underpasses. Work will begin on Friday 21 April in Città di Nimes, with major changes in traffic. Shortly afterwards, towards the end of April, Borgo Roma will be next.
The project involves the creation of a link between the two underpasses built for the 1990 World Cup in order to promote the separation of private traffic, which will pass through the future tunnel, and public transport, which will have its own lanes.

The underpasses will be closed for a year, until 31 March 2024, before Vinitaly. In the meantime, the road network will be modified with the creation of a large one-way ring road between Porta Nuova and Porta Palio.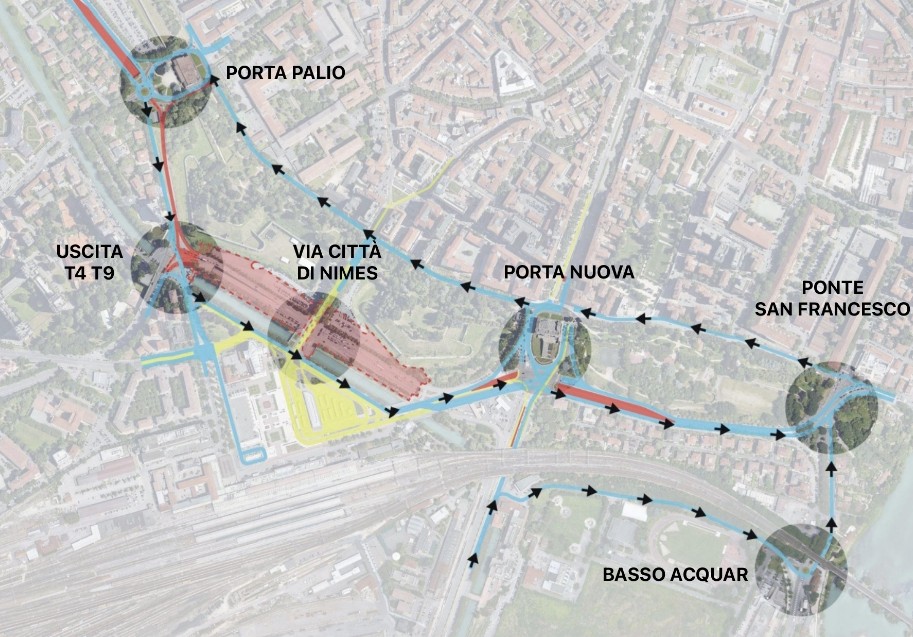 Taking into account the criticalities on the traffic, you can find here after the main variations:
Porta Palio. Coming from Borgo Milano, it will no longer be possible to pass through the underpass, but you will have to take Via Galliano and Viale dal Cero to reach Via Faccio.

Exit T4 T9. Arriving from Verona Nord, along the T4-T9, it will no longer be possible to head towards Porta Palio, but you will have to turn right on Via Cardinale, which will become a one-way street with two lanes, while the third lane will be used for bus transport.

Città di Nimes. The route will become an exclusive excess of public transport, except for the stretch of access to the two car parks, towards the Oriani ring road, which will remain a two-way street.

Porta Nuova. Following the modification of the road network, traffic lights at crossroads will be changed to facilitate traffic. In the railway underpass of Porta Nuova there will be two lanes for the transit of public transport.

Via Basso Acquar. From Basso Acquar in the direction of Ponte San Francesco it will be necessary to take via Fedrigoni, at the end of which a temporary roundabout will be created. Via Fedrigoni, moreover, will become one-way until via Dominutti, the one-way will be reversed in via Ascari for the access to the sports center.

Ponte San Francesco. To go to Porta Nuova coming from Lungadice Galtarossa, you can go through Via del Fante and then along the ring Raggio di Sole.

Critical zones and times.
Longer routes are recommended, avoiding internal and external ring roads to relieve traffic congestion. In addition, the midweek hours of start and end of office hours will be the most problematic, from 7 to 9 am and from 17 to 19.30. It is also advisable to avoid areas and days subject to concerts in the Arena or sporting events.

In addition, it is advisable to use public transport. The aim will be to encourage buses, for example, the train station area will become almost inaccessible to private cars, including those with permits for disabled people who can only access the side lane of the entrance to the parking lot, without being able to park in Piazzale XXV Aprile.

Station direction.
The easiest and fastest way to go to the station will be on foot, by bike or by public transport, also considering that via Città Nimes will be for the use of public transport and taxis. The pedestrian underpass of Viale Piave will remain open, for pedestrians and bicycles. For those travelling by car, however, you can access via Palladio and the North Ring Road. Coming from Porta Palio, you can go to the station only if strictly necessary.
Fair direction.
The stretch of road from Viale Piave to Corso Porta Nuova remains bidirectional, this means that from Corso Porta Nuova you can go straight towards Zona Industriale, go through Borgo Roma and Stradone Santa Lucia to head to Golosine and Santa Lucia.