(by Gianluca Ruffino) 'In my life, sport represents a symbol of rebirth, because it brought me back to walking after my accident'. A few weeks before the World Paralympic Swimming Championships in Manchester, Stefano Raimondi is a perfect demonstration that perseverance and courage are the basis for overcoming all limits. The Venetian swimmer did not stop in front of the obstacles that life put in front of him but saw them as motivation to work even harder and emerge from the difficulties, emerging as a champion.
The scooter accident
Born on January 1, 1998, in Soave, Stefano immediately proved to be a talent in the water. Despite his mother's fear of water, his parents understood his potential and supported him in his swimming career. The first results in national competitions came immediately, and until the age of 15, Stefano took part in competitions for able-bodied athletes. Until that August 19, 2013, when a bad scooter accident caused an injury to his left leg that initially looked like it could lead to the amputation of the lower limb and the end of Stefano's swimming career.
The return to the pool
But the Veronese boy, despite his initial doubts and fears, did not hesitate to dive back into the water and achieve all he wanted by pursuing his dreams. His comeback was phenomenal: in 2014, a year after the accident, he finished third at the Italian Youth Championships for able-bodied athletes. Since 2018, between the European and Paralympic World Championships, Stefano has been collecting medals and records: 23 medals, including 7 gold. Among his best moments, was the unexpected gold medal won in the 50 metres freestyle at the Paralympic World Swimming Championships in London in 2019.
The consecration, however, came at the Paralympics in Tokyo in 2021, when the swimmer won 7 medals (1 gold, 4 silver, and 2 bronze), becoming the Italian athlete with the most medals in the entire Paralympic expedition.
Successes that stem from dedication, inspiration from his idol Federica Pellegrini, support from his family, coaches, and girlfriend Giulia Terzi, also a Paralympic swimmer with congenital scoliosis who won five medals at the Paralympic Games in Tokyo.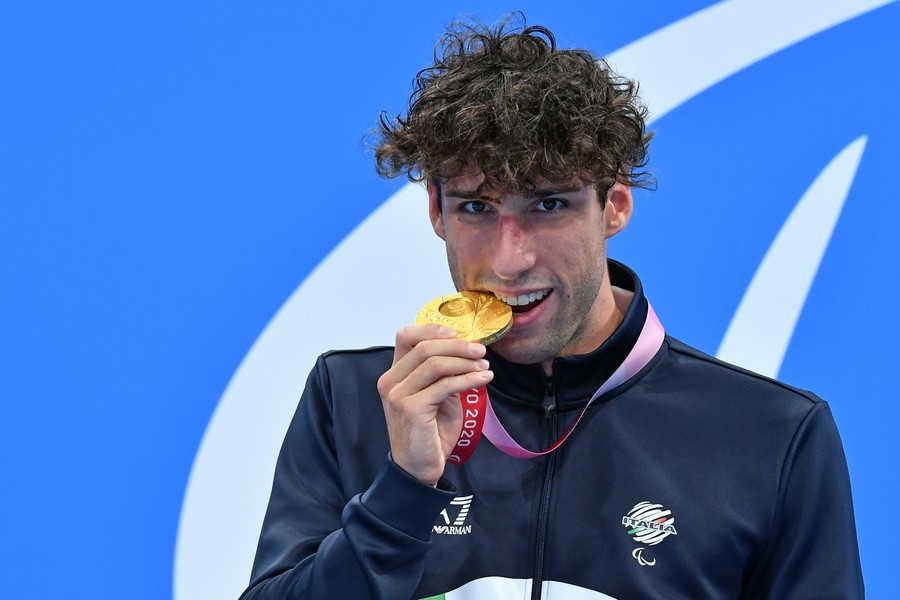 Love for Giulia: a golden couple
A love story between Stefano and Giulia started during a national team meeting in Ostia and the pair have been inseparable ever since, thanks to their passion for swimming. A golden couple in the pool thanks to the mutual support they give each other, despite training in two different cities: Stefano with the Verona Swimming Team, Giulia between Bergamo and Milan. Both were awarded, in 2021 by Mattarella at the Quirinale, the Golden Collar of Sports Merit, the highest Italian National Olympic Committee's honours.
Between passions, superstitious rites and advice 
A lover of 80s and 90s music, Raimondi has no superstitious gesture other than taking a hot shower before every race. The opponent he fears most is the Ukrainian Maksym Krypak. 
'Resilience means never giving up and fighting to reach your goals,' Raimondi said in an interview with the Italian Paralympic Committee, explaining that 'without goals, you cannot overcome your limits'. And Stefano overcame those limits like a true champion, giving everyone a real example that in life you must never give up.