The Wheelchair Rugby Championships Division C begins with the hosts overcoming Sweden 53-39 at the Bella Italia Village Sports Hall in Lignano Sabbiadoro. Sweden, Ireland, Austria, and Italy will compete in the international event, which is organized by FISPES in collaboration with WWR (World Wheelchair Rugby). 
After the opening ceremony on Thursday, September 21, the hosts, coached by Franco Tessari, entered the field against Sweden. The Azzurri made a great start from the first bars and led 13-7 at the interval. The score remained level at halftime, with Italy leading 24-17. The hosts took off and flew 41-26 in the third half, and when the final whistle blew, it was a great celebration for the Azzurri, who won the game 53-39.
The Wheelchair Rugby Championship's second day has arrived.
The Italians entered the field again this morning against Ireland, bringing another significant victory: the match ended 50-30 for Italy, which moves up to sixth place in the WWR European Wheelchair Rugby Championship Division C standings.
This is how the captain Davide Giozet of the Italian team described their victory. "We put into action the things we practiced throughout the summer preparations with Sweden already yesterday." On paper, this one with Ireland was expected to be more difficult, but the end result proved otherwise. We gave it our all; we're a strong group, and we're enjoying a fantastic European Championship. This afternoon, we will compete with Austria for first place in the group. It is the most threatening opponent; they are well organized, and the contest will be difficult. Ahmed is a fantastic basketball and rugby player. With only one arm, he does things that even those with two cannot… He is a true phenomenon!"
Today's match versus Austria will determine who advances to tomorrow's semifinals. The game is being streamed live on Facebook.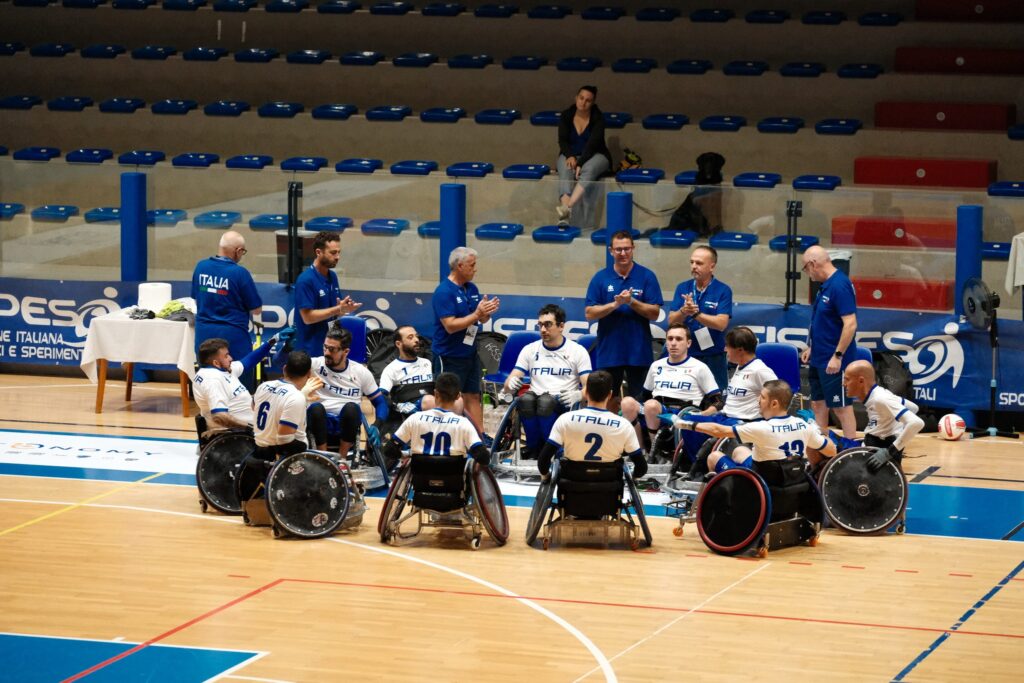 Photo credits: FISPES